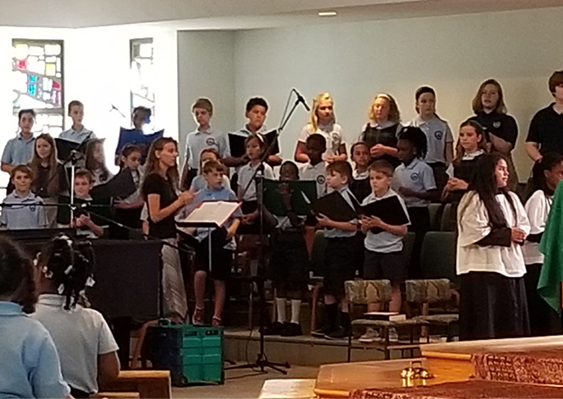 Music Minister: Thom M. Bercik
berci[email protected] or [email protected] 757-662-1120 x 5
"Consult in the bulletin this week at CTK for rehearsal schedules."
Music is an integral part of every weekend Mass celebrated at Christ the King.  A variety of musical styles, from pre-Baroque and traditional to contemporary is incorporated in the celebration of Mass. Opportunities for participation in the music ministry include:
Adult Choir
The adult choir sings at the 8:30 AM Mass weekly as well as all major Liturgical celebrations including Good Friday, Easter Vigil, Easter Sunday Morning and Christmas Midnight Mass. The role of the Adult Choir is to aid in the assembly's participation with enthusiastic singing. At other time, the role of the Adult Choir is to add lyrical beauty and dignity to Worship. Rehearsals are Wednesday evening from 7:00-8:45 PM in the Church.
Youth Choir
The youth choir is open to all students, grades 9 – 12. They sing monthly on either the second or third Sunday of each month at 5:00 PM Sunday Liturgy. Rehearsals are held one hour before start of Liturgy.
Cantors
At Christ the King, Cantors lead the congregational signing at those Liturgies where a choir is not present. Cantors need to have good vocal strength and quality. The ability to read music is helpful but not required. Cantors are especially needed to assist with the signing at funerals and weddings. The parish is always in need of more Cantors. Please consider this very important ministry.
Refuge Choir
Refuge includes a dedicated cadre of voices supported by additional instruments. Our goal is to encourage the congregation to "pray twice" by singing. Our sound is a mix of contemporary, folk, and praise & worship flavors. Participation in Refuge reflects a call to ministry and commitment to 3-4 hours every two weeks, with rehearsals and Sunday evening Mass twice a month.
LOOK FOR REFUGE ON FACEBOOK: https://www.facebook.com/pages/Refuge/131501890270009
OR CHECK OUT THEIR WEB PAGE AT: http://refugechoir.blogspot.com/